A new pricing model, a global pandemic, new features and products – there was a lot happening on the Spreadshirt Marketplace in 2020… Did you catch it all?
A huge thank YOU….
Your designs and illustrations have made the Marketplace a whole lot more colorful and exciting this past year. We're so glad to have each and every one of you as a part of our growing community. Now, let's reflect on how far we've come together.
Design contests & Designer of the Month
Unfortunately, we had to temporarily pause our design contest and Designer of the Month due to Covid-19. On the bright side, at the beginning of the year we were still able to hold three design contests!
We received an unbelievable amount of inspiring (and nine winning) designs for the "Green Planet", "Deep Sea" and "Animal Trends 2020" contests! Thank you to everyone who participated! We're already planning a new design contest format for 2021.
And for our Designers of the Month…
January: Lunaticchili
February: derholle
March: ostsee.de
Our Designer of the Month feature is back, this time on our social media accounts. Discover the first Designer, Chilifox!
Who moderates the forum?
Our forum is a lively place for exchange. We owe this to the many Designers who get involved, answer questions, make suggestions and share their constructive criticism with us. Special thanks to the Designers, Simsalapimp, who actively support us in moderating the forum, and to Lovetee, who dedicated their time to the forum in the first half of 2020.
New pricing model
Since February, designs on the Marketplace have had a fixed price for each product.
Your benefits:
New (very affordable) products like stickers = more sales opportunities
Reach new and price conscious customers
Over 150 competitive product types in 18 countries
Covid-19 and Spreadshirt
The pandemic has affected Spreadshirt in many ways, here are a few Marketplace challenges we've overcome together… Temporarily unavailable products, temporarily reduced design upload limits and instant publishing limits.
Revised Community Standards
This year is also going down in history for civil rights movements like #blacklivesmatter and an eventful presidential election. These social changes sparked new conversations that resulted in us rethinking and revising our Community Standards.
Report designs easily
In connection with our revised Community Standards, we've also optimized the report design function. It's now even easier to track down and report content on our platform.
SPOD launches in Europe
On the Spreadshirt Marketplace you create designs – and we take care of the rest. SPOD (Spreadshirt Print-on-Demand) allows Merchants to run their own businesses and stores via Shopify, we simply produce and fulfill their orders.
More and more designs…
The pandemic has caused sales to increase on the Spreadshirt Marketplace. We've also seen many more new Designers joining our platform! But what happens after you upload a design? We've summarized a few statistics and processes to answer all of your questions.
Changed payout frequency & FAQs
Understand your sales and revenue even better – including taxes that need to be paid.
Better user journey with personalization feature
People who shop on the Marketplace want to personalize products every now and then. With the new personalization function, they can do this directly on the Marketplace – and are no longer redirected to the self-design tool, like they used to be. For you, this means that you'll earn the fixed design price when customers personalize a product.
SpreadApp 2.0
The SpreadApp update now gives you push notifications when you sell something. We've also added a new dark mode!
Product Wizard
With the Product Wizard we've created an easy way to add your designs on a new product.
Many new products
In 2020, we've added more than 20 new products to the North American Marketplace, as well as over 25 new colors and sizes! You can find all the new products here.
Spreadshirt becomes Spread Group
We're all grown up! About 18 years ago, Spreadshirt was just a small start-up in Leipzig, Germany. Now, we're a part of Spread Group. A family of brands dedicated to print-on-demand and self-expression. Want to learn more about our history?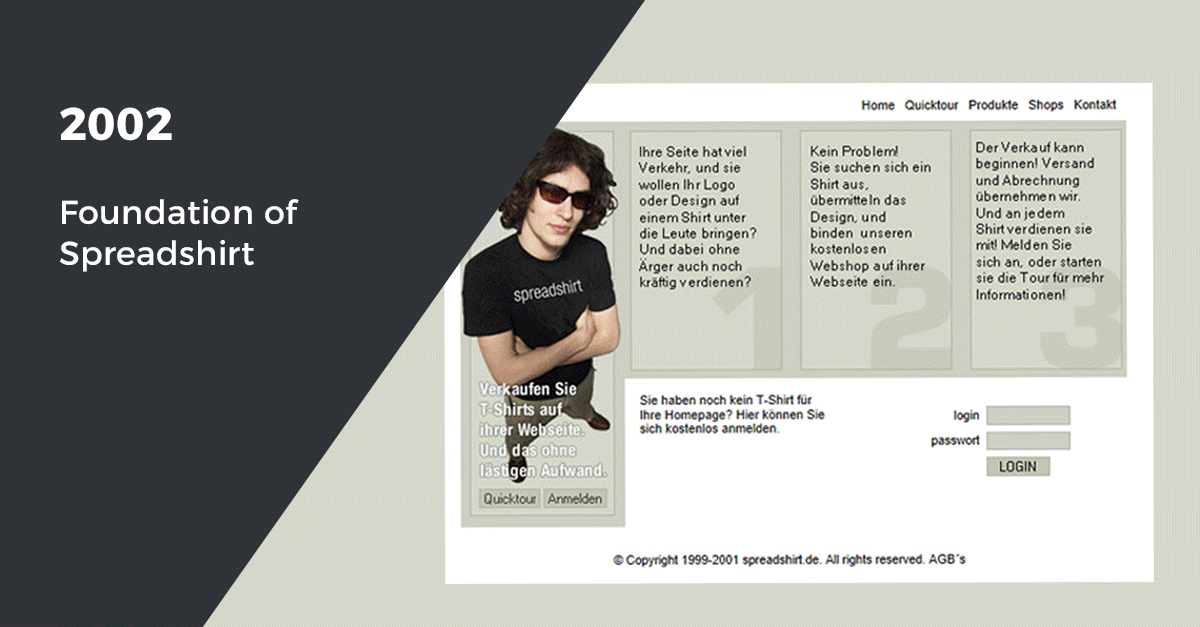 Any questions about our updates? Ask away in the comments. We're wishing you all the best for the remainder of 2020. Have a happy, healthy and peaceful New Year!