Get ready for Spreadshirt Star Academy, our new program for cranking up sales on the Marketplace. You'll get lots of benefits and opportunities, so you can become a star in a sky of designs. The countdown is on!
Spreadshirt Star Academy fuels your success
In the next few weeks, we're going to ignite the engines of Spreadshirt Star Academy, and we're happy to have you on board. You'll be awarded a star class based on your sales history, the quality and relevance of your designs. There are five different star classes, each unlocking their own unique perks. No matter the star class you start in, we'll support you in marketing your designs. As your design quality and sales improve, you're upgraded to a new star class and can expect more benefits! Our mission is to equip you with the resources to drive sales, create fantastic designs and become the brightest star in the sky.
Our joint mission
Currently, 140,000 designs are published on our platforms every week. That's a lot of designs! Spreadshirt Star Academy ensures your customers will find what they're looking for: your best designs on the Marketplace. This program rewards Designers who create high-quality designs and relevant content with good sales numbers to match.
Out of this world Designer benefits
As you make your journey through the galaxies, you'll gain access to advantages that will help you sell more. Whether you're in Star Class 1 or Star Class 5—we've got something for you!
Spreadshirt campaigns: We'll feature your designs in our newsletter, social accounts, on the Spreadshirt Marketplace or on external marketplaces.
Instant publishing: Your designs are available for sale on the Marketplace minutes after publishing them.
International publishing: Sell your internationally suitable designs on all languages and domains of your platform.
Publishing limit: A maximum number of designs you can publish in your star class on the Marketplace. The publishing limit is independent of the upload limit.
FanArt program: Soon after the start of Spreadshirt Star Academy – and depending on your star class – you will have access to the official brands of our licensed partners. Use brands like "Smiley" and others to create your own designs. It's completely legit and free of charge. We will inform you as soon as the program starts.
If you are new to Spreadshirt, we'll support you with the Starter Package. As a Starter, you will receive exclusive tips for success that are tailored to your current situation. As soon as you have published 10 designs, we'll check the quality and relevance of the designs so we can award you a new, higher star class. Opportunity awaits!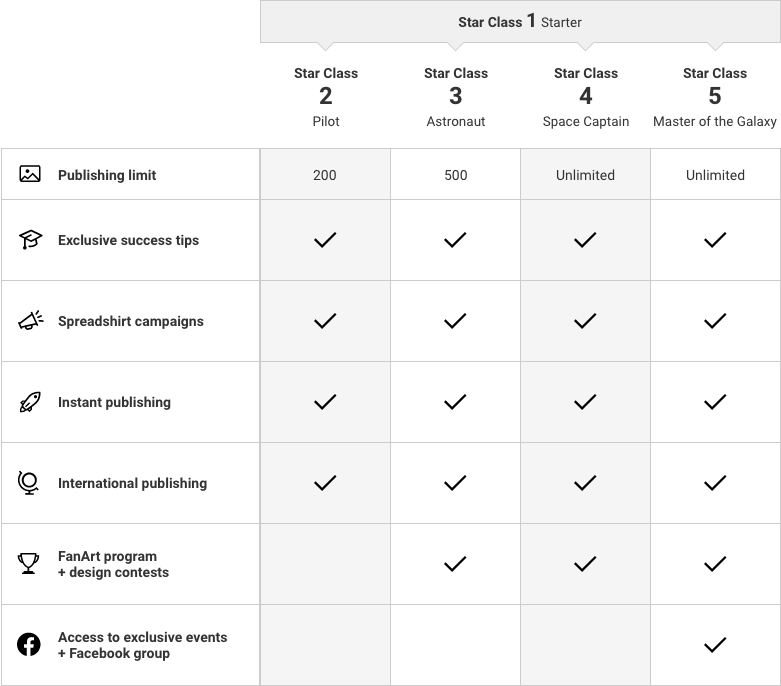 Shoot for the stars — unlocking your star class
Your star class is determined by your total sales, design quality, design relevance and rejection rate. For the higher star classes, you'll need either 100 sales once or 5 truly special, unique and original designs classified as relevant by our design team. Our design experts consider a design relevant if it positively stands out from the crowd. If you're performing well, you can skip one or more star class right away.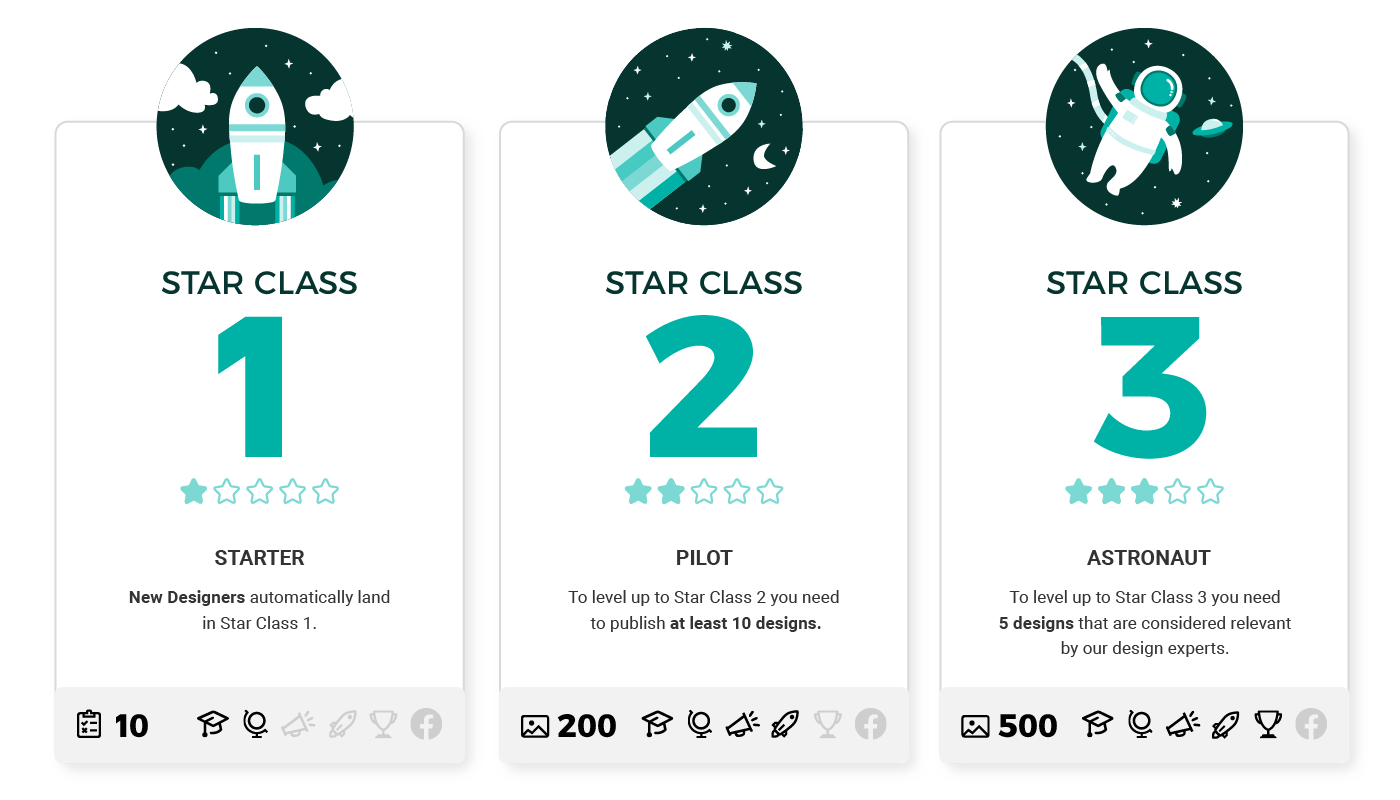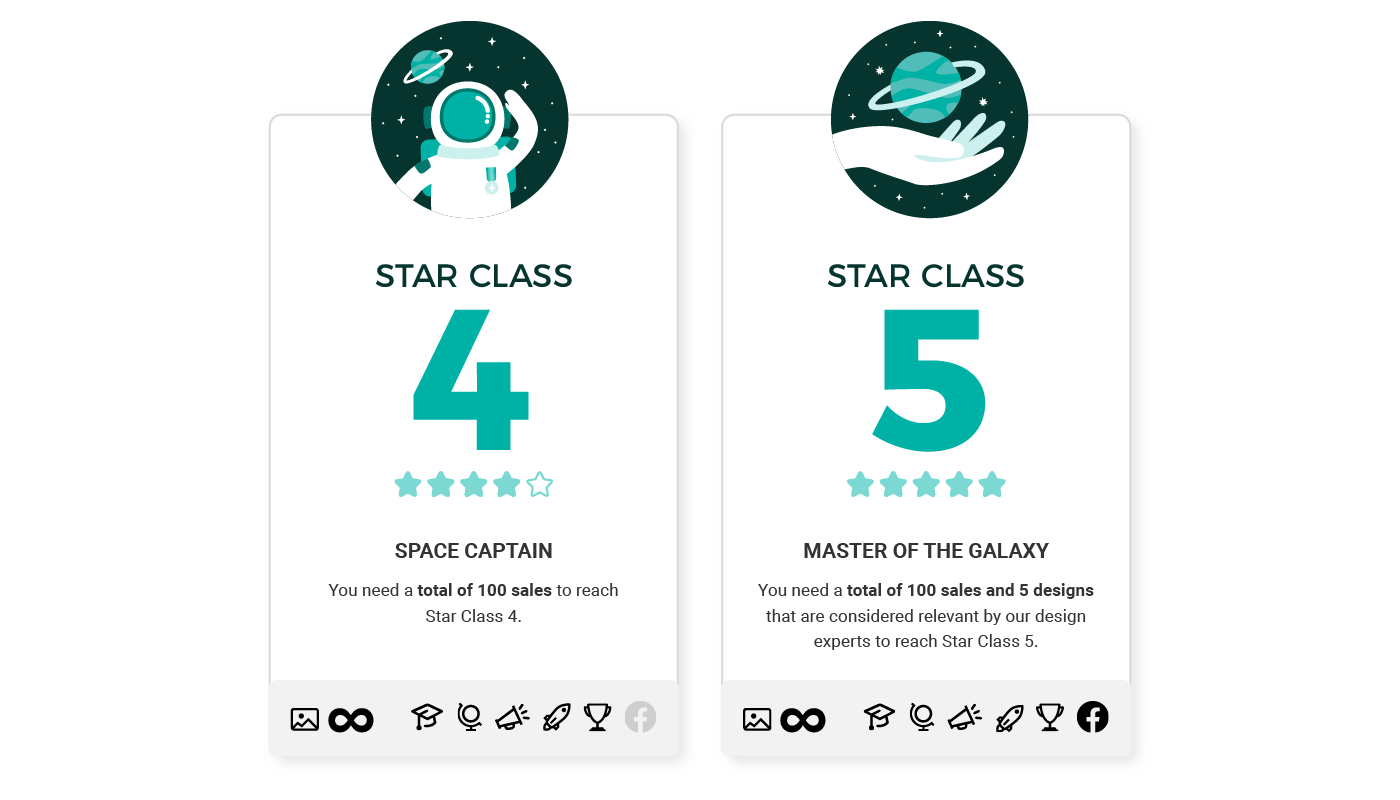 And no worries – you won't lose you current star class if you put things on cruise control for a while. Spreadshirt Star Academy knows only one direction: upwards. The only exception to this is if you become lost in space.
Lost in Space (there's no air out here!)
We generally review the number of designs that have been rejected based on our guidelines. If too many of your designs have been rejected, your status could change to "Lost in Space." You can find more about what this means for your star class benefits and future opportunities here.
Standby for take off
Spreadshirt Star Academy was developed together with several Marketplace Designers and beta tests. Here's some of the feedback we've received along the way:
"I think this initiative is awesome, I've had the feeling that probably every Designer has: I'm making high-quality content and my designs can't be found easily, so I'm not selling as much."
"I always try to make something high-quality and independently, but I just can't get ahead in a crowd of designs. That's why I think the initiative is good, because there is more focus on quality and that will make my designs more visible."
As you can see, Spreadshirt Star Academy is a team effort, and we're happy that you're a part of it! You can experience Spreadshirt Star Academy for yourself in the next weeks to come!
In the meantime, check out our Star Academy Q&A, and if you have any other questions let us know in the forum or comments below.