Are you sharing your designs on Instagram but lacking likes or comments from your followers? Get our 10 tips for more engagement!
Have you already set up an Instagram Business account? Maybe you create a new post every now and then – and then are disappointed when you don't get any notifications from the Instagram app? You're left asking yourself:
Why am I getting so few likes on Instagram?
Instagram is no longer a niche when it comes to social media marketing. All the big brands have long since discovered the platform for themselves and millions of people of all ages, genders, and interests from all around the world scroll through their timelines every day. So where on earth are all your likes, comments, tags and mentions?!
Engagement is incredibly important if you want to market your designs for free, i.e. with organic (unpaid) posts on Instagram. But Instagram's complex algorithm makes it difficult for you to get more than a few likes per post. The less attention your posts get, the fewer people see them in the first place – and you disappear like a drop in the vast visual ocean.
How do I get more engagement on Instagram? 10 tips for you: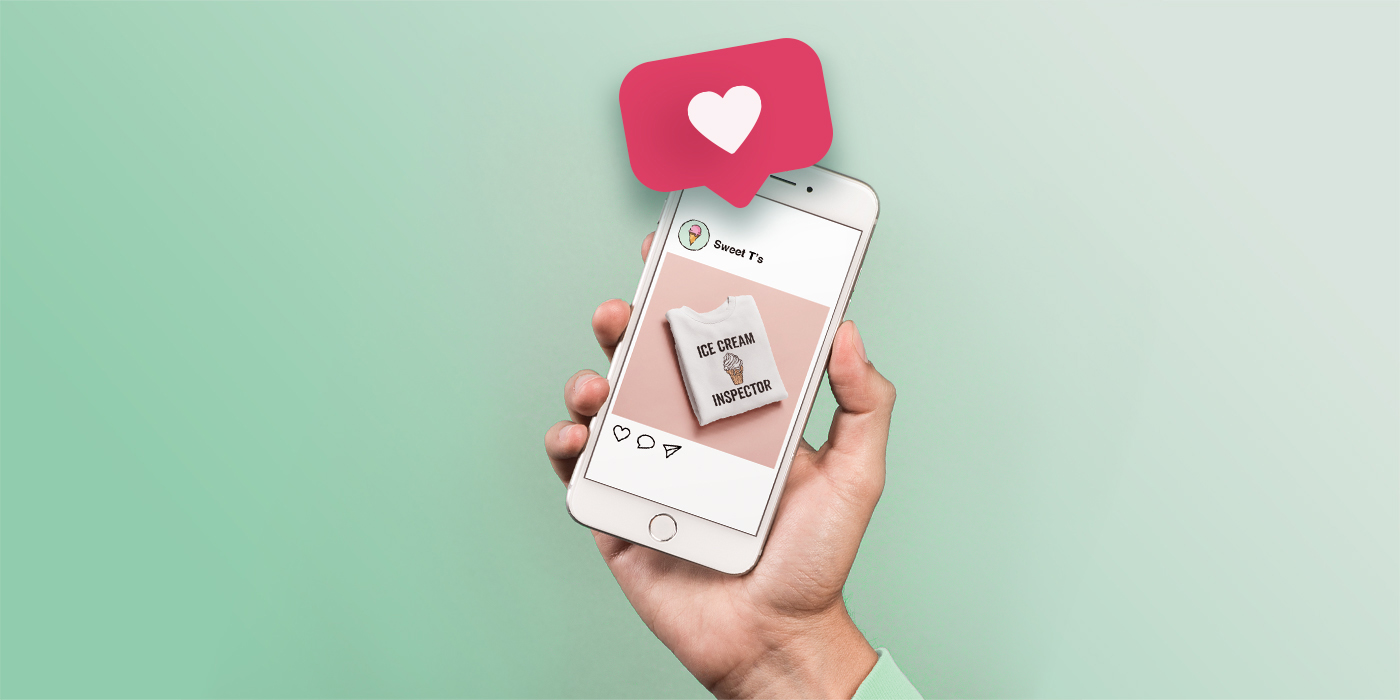 With these 10 tips, you'll be setting yourself up to get plenty of likes and comments under your posts – and thus a growing number of followers and better visibility.
Create a visual brand. With unique, interesting and visually consistent posts, you create a world of your own for fans of your designs.
Be yourself. Be authentic and introduce yourself to your audience. Nothing is more attractive than real people with real stories.
Develop your own language. Look at your profile or brand, your designs and your audience and think about how you want to appeal to them.
Know your audience. What are your followers interested in? When are they most active? This will not only help you figure out when to post, but also what type of content will be successful.
Get creative:

with Instagram Stories
with carousel posts (multiple images in one post) that tell a story or show different perspectives
with work-in-progress and inspiration posts
with GIFs
with videos (Instagram Reels up to 60 seconds), videos have 38% higher engagement than images!
with contests and giveaways
with custom filters and stickers for Stories.

Bonus Tip: Try different free tools and apps to create great content.
Plan ahead. Post at the right time by preparing automatic posts through Facebook Business/Creator or a social media planning tool.
Engage with your followers. Reply to comments, invite your followers to ask questions, share interactive stories, and let your audience participate in your design process. Also visit their accounts and like/comment on your fans' posts.
Use relevant hashtags. They will make sure new people find you.
Keep on keepin' on. Post regularly so your engagement doesn't drop.
Be grateful. Thank your followers for their interest, get to know them and invite them to introduce themselves or share their own experiences.
How do I market my designs on Instagram?
Do these 5 things to market your Showroom designs more effectively on Instagram.
Add the link to your Showroom in your profile information under "Website". Use the #linkinbio reference in your posts to make your followers aware of it.(Note: Adding links is only possible with an Instagram Business account. Learn how to set it up here.
Post pictures of your designs and tag @spreadshirt. With a little luck, we'll feature you on our profile!
Be a perfectionist and don't mess around with poor quality pictures! No one likes pixelated designs.
Let your audience see your processes. Show them how you work. If you are particularly good at something, you can create a tutorial for it, for example.
Tell your audience that you need them and ask them to share your designs with their followers. This is easily done using the little paper airplane icon under your posts.
Got it? Nice! Don't got it? Then read more here about how to create your Instagram Business account.
And as always, you can ask your question here in the comments or join us in the forum!