The leaves are changing, temperatures are falling, and the smell of pumpkin spice will soon be in the air – get inspired for the slow change to the cozy seasons with the latest colors, fashions, and design trends for fall and winter 22/23.
What are the trendiest colors this season?
According to the Pantone Color Institute – the ultimate authority on color – the autumn trends this year are all about harmony and nature-centric respect for the environment. They are warm earthy tones that together create a beautiful color concept, complement each other well, or look great on their own.
The classics: Seasonless hues like Ice Coffee, Peach Caramel, and Blueberry express versatility and longevity.
The highlights: Molten Lava, Spicy Mustard, Lichen Blue, Meadow Violet, and Abundant Green – natural and energetic bright tones symbolizing the contrast of serenity and excited energy.
The Big 3 of this season are orange, red, and brown
Orange
The Pantone colors Dragon Fire, Orange Tiger, and Peach Caramel are three very different expressions of this fall classic. The first two are bright and eye-catching, while Peach Caramel is warmer and more muted. Orange hues pair well with dark tones like olive green, dark blue, and even black.
Red
Despite orange making a grand entrance, bold red is still one of the premier fall colors. Here, too, there are differing interpretations from the warm Lava Falls to the fiery, intense Molten Lava. Good combinations are cream white, pantone nude, and black.
Brown
Brown has been on the rise for some time now and is finally replacing black as the preferred contrast. In addition to the many shades of dark brown, light shadows of brown are taking centre stage, such as Pantone Iced Coffee. In contrast, traditional rich and warm shades such as Chicory Coffee and Caramel Café are still very popular.
Which patterns are on-trend for fall and winter?
Psychedelia and new wave print: Stone, marble, and wave patterns will be a big print and pattern trend this fall/winter season
Celestial: Fall and winter 22/23 will draw on celestial magic and spirituality. From stars and planetary constellations to mystical signs and symbols, this print is going to be everywhere.
Kaleidoscopic print: Back to clean graphic lines and color-blocked geometric patterns – a touch of the surreal. Kaleidoscopic print takes a bright, bold, positive look at the future. Rainbow patterns and coloration add to the happy vibe.
Vintage florals: From botanicals and vines to decorative damasks and wallpaper florals, a vintage palette is key for an authentic throwback look.
(Oversized) checkerboards: From minimalist to over-the-top, strict lines or groovy interpretations, consisting of two shades of more colorful combinations.
80's vintage print and street art pattern: Vibrant, neon colors, crazy patterns, geometric shapes, cyberpunk – the 80's style is all about grabbing attention and being visible. Keep experimenting until you create the perfect effect.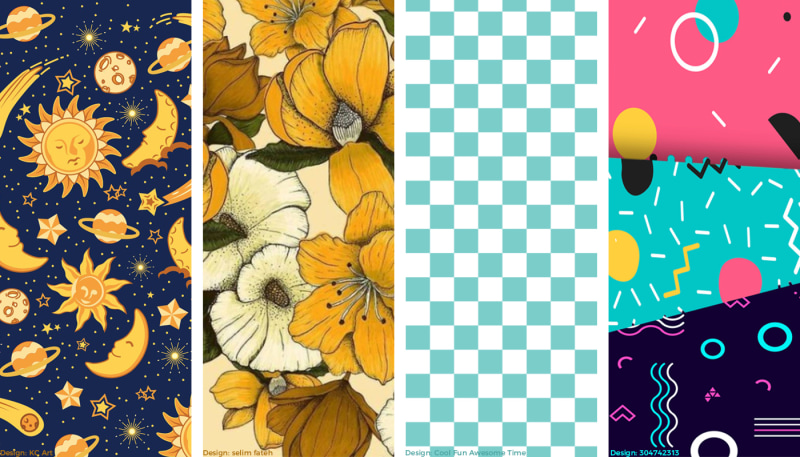 What's trending in style and motifs?
Grunge: Grunge is a mega trend since last year, starting from a completely black or leather look to more complex designs in a grunge style. Grunge designs are dirty, patchy, and damaged. Ink blots, rust marks, abrasions, and cracks reflect the imperfection and transience in our world. Gloomy textures and shadowy images alternate with tape and spidery handwriting.
Eye of the tiger: 2022 is the Year of the Tiger in the Chinese calendar. This spiritual animal embodies courage, assertiveness, self-confidence, and adventure. The tiger is a popular motif and can be depicted in many ways, whether stylistically close to Chinese woodblock printing or complete modern minimalism.
Kidcore: This trend is inspired by things from our childhood – modelling clay, glitter, crayons, stickers, bright colors, rainbows… It is an expression of pure childlike joy and creativity without the influences of adulthood, free from social expectation. Strong contrasts, bright colors, thick outlines, and large colored areas characterize this style.
Scribbles and quick drawings: Quick drawings are individual and personal. They don't necessarily have to be analogue drawings – most graphics software programs are now so good they can replicate authentic hand-sketched drawings. A simple sketch can also be quickly and easily combined with the warm and minimalist color styles mentioned above.
Now you're an expert on the cutting-edge trends in design and color for this fall and winter. Need more specific design inspiration? Check out our posts about our top search terms from October to December last year, up-and-coming products and colors of the last six months, and special occasions and holidays from October to December 2022.
That's an overload of inspiration! If you have any questions, we're always happy to help in the comments or on our forum.