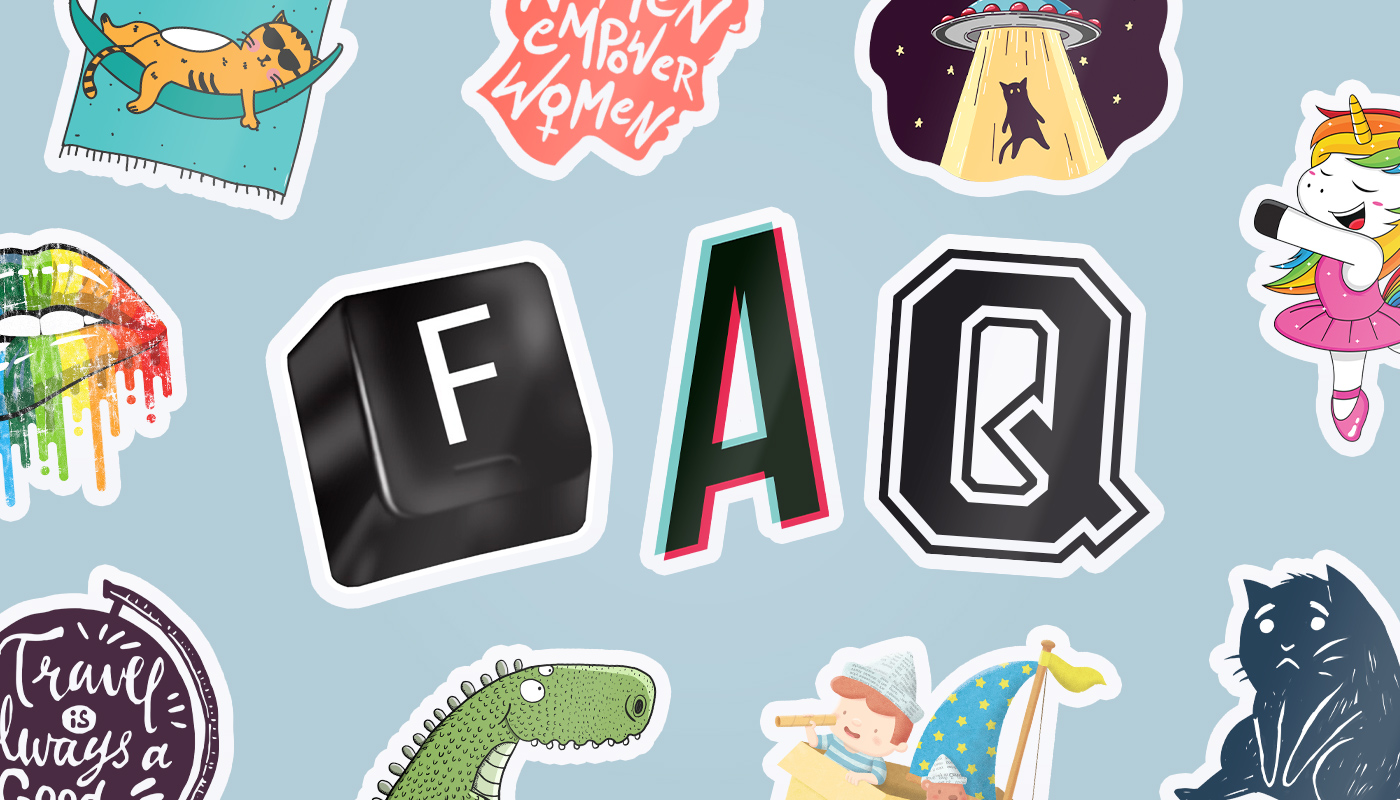 How much do I earn for every sticker I sell?
Like other products, stickers have their own commission price. On the Marketplace, you'll be credited with $0.85 USD for every sticker sold. More info can be found in this overview.
How are the stickers printed?
The stickers are printed on large format plastic foils with an eco-friendly "Eco Solvent" ink. Special printers are used to print your design and then cut it to the correct size. This makes many different sticker formats possible, which we'll introduce in due time.
Which file formats are supported?
File formats stay the same. The stickers are integrated into our platform as a new product type. You can continue to use your existing files for pixel and vector graphics as usual.
How big are the stickers?
To start off, stickers are available with a maximum size of 3.9 x 3.9 inches (10 x 10 cm). Designs with a rectangular design will be cut accordingly, but the longest side can be up to 3.9 inches or 10 cm.
Will there be other sticker sizes?
More sticker sizes and cutting options are on the way. We've already begun preparing! As soon as the final dates are set, we'll let you know.
What are the surface and background options?
Currently, we have transparent stickers, stickers with a white background/matte finish and stickers with a white background/glossy finish.
Will there be stickers in the package?
There will be no bundled stickers in the package for the launch. But we're currently looking into this option and are looking into the demand for this product.
What are the shipping costs for stickers?
The shipping costs for orders that contain only stickers are shown in this overview. The shipping costs can vary depending on the country of delivery.
Can the stickers be removed and reused?
Yes, the stickers can be removed without leaving any residue or damage and can be reapplied. However, the stickiness will wear off over time.
Are the stickers waterproof?
Yes. The stickers are weatherproof and stick to almost all surfaces.
Do the stickers fade in sunlight?
No, both the ink and the sticker film are resistant to UV light. This means that under normal use, sunlight can do little damage to these stickers.
Will stickers be available in Create-Your-Own?
Nope. Right now, stickers are only available on the Marketplace and Spreadshop.
Will there be advertising for stickers?
Yes, we're excited to advertise stickers on all of our primary channels, like newsletters, Facebook and Instagram. We'll also make the stickers visible everywhere on the Marketplace website.