The world is changing and so are we. Discover our revised community standards and how they help us define the content allowed on our platform.
What are community standards?
Our community standards define who we are as a company, from the beliefs and values we hold to the type of content we allow on our platform. By defining clear expectations for our Designers, we're laying the groundwork for what we want our open platform to look like. In order to have an open platform that uses freedom of expression to positively contribute to the world, community standards are necessary.
When you choose to partner with us as a Designer, it's expected that you follow our community standards. If a partner does not follow our community standards, it can result in a design being rejected.  In some cases, depending on the severity and frequency of the violation, your account may be closed.
Why did the community standards change?
From fake news to a global pandemic, it's no secret that our world is changing. We've updated our community standards so that they can meet the demands of today's changing world.
As an open platform, we know that the context around a design can radically change its meaning or impact. We have to make many different decisions around topics or content that might be borderline or don't directly violate our standards. Our new community standards are much clearer, while staying true to our identity as an open platform.
As a global platform, we know that different people have different opinions. We also know that a healthy democracy is founded on difference and the exchange of ideas. We're doing our best to create a space for diversity of ideas while limiting content that could be hurtful to others. By updating our community standards, we're doing our part in making sure our customers and community feel safe when using our platform.
What revisions have been made to the community standards?
We've expanded on the section of "Hate Speech and Hateful Content" and we've added a new section "Harmful Misleading Content."
Additionally, we've streamlined the process for reporting designs. Any user is now able to report a design without having to be signed in.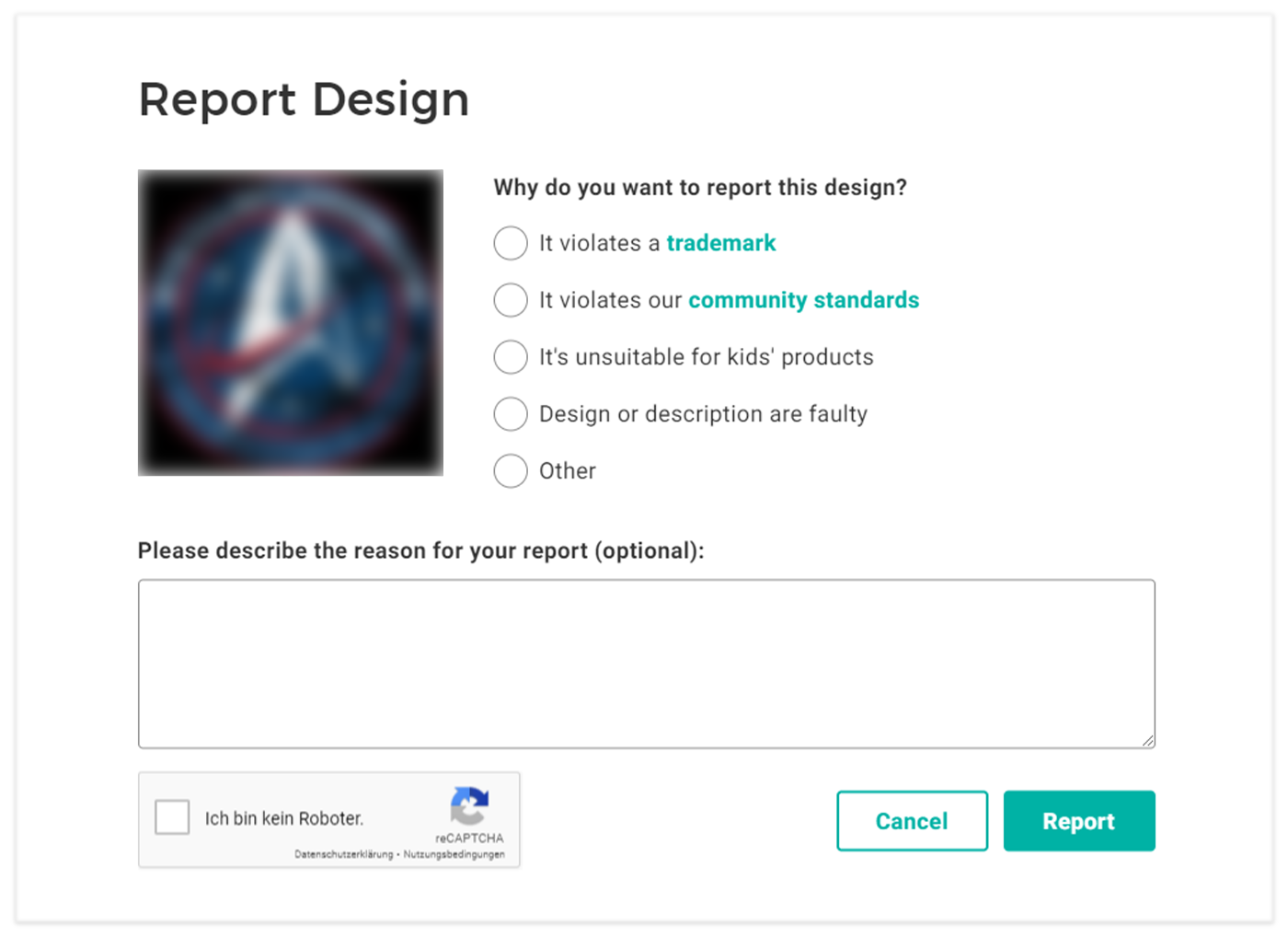 We've also made the community standards more visible on our platform, by linking to them when you upload a new design. In order to contribute the best content possible to the Marketplace, as a Designer you can ask yourself if a design you want to upload is ethically and morally justifiable.
Where can I find the community standards?
Our community standards are online and always readily available for anyone who wants to read them.
Remember, reviewing designs and improving the content on our platform is an ongoing process. If you've found a design you think violates our community standards, you can report it and we'll review it.
Thank you for being a part of our community! If you have any questions about our updated community standards, let us know in the comments below.