Are you dreaming of a green Christmas? These curated tips on gifts and gift-wrapping will help make your holiday celebrations more Earth-friendly.
Wasteful gifts are so 'Last Christmas'! Our Communications Manager Kristina has been on the lookout for sustainable gift and packaging ideas to make your white Christmas a little greener. We've rounded up the best ideas for you here.
Is it organic?
The Christmas season is about so much more than indiscriminate buying and Black Friday steals. The Ghost of Christmas 2021 called and said, "Don't buy mindless junk! Think of the planet, Scrooge!" So when you're hunting for the perfect gift, take a moment to think about what your loved ones actually need or would really love, and whether there's a sustainable version available. Ultimately, of course, the greatest gift is of all is continuing to live on our big old Earth. But let's not get into all that. What follows are 8 eco-friendly gift ideas that would delight anyone on your gift list… and make the world a little better in the process.
Go on an adventure (together): Skip the trinkets and give the gift of quality time. A day at the spa together, a museum visit, a weekend getaway to the lake house, a cooking class—these kinds of experiences give the gift of happy memories. Go for something relaxing for your workaholic friend or a more adventurous experience (skydiving, anyone?) for the adrenaline junkie on your list. The world is your oyster: you're sure to think of an experience that the loved ones on your list would enjoy.
Books & eBooks: Have a bookworm on your list? A book can open up the most fantastic worlds or open up their mind to new ideas during the contemplative post-Christmas lull. Best of all, once read, a book can be reused, shared, repurposed or donated. eBooks are a great paperless alternative if your loved one prefers eReaders.
Photo book: Give the gift of sweet memories and create an heirloom photo book. A tactile book can offer a deeper connection than scrolling through photos on your phone and is sure to be cherished for years to come. Create a photo book for your loved ones that will remind them of your trips and everyday adventures together.
Plants: It doesn't get greener than this. Whether for the garden or their homely oasis: plants always get the green light. Take fresh cuttings yourself or find out which rare geranium grandma needs to achieve perfect happiness. Plants under the Christmas tree not only provide oxygen in the candlelit living room, but continue to delight long after the festivities are over.
Animal sponsorship: "It's so fluffy!" You're sure to win the heart of the animal lover on your gift list with an animal sponsorship, and do good in the process. Whether there is no room for a 30th cat in their home or they have allergies— a sponsorship helps protect endangered animals. Make their world a little better with a one-time or monthly donation. Check out the WWF page for animal sponsorships and personalized gift certificates. Prefer to go local? Check with your local animal shelter or zoo to see if sponsorships are available for their residents.
Edible gifts: This is a gift that's sure not to go to waste! Give a gourmet gift basket full of organic, vegan or vegetarian products for a sustainable, edible present. If you like baking or cooking, then a cute box full of home-baked cookies is sure to get a smile.
Home spa: What's nicer than a relaxing hot bath on a winter evening? Give them some all-natural, organic bath products or mix up your own bath salts at home with a few simple ingredients (we've done this and it only takes a few minutes). Add a fluffy organic towel or bathrobe to bring the gift up a notch.
Organic clothing: Can't resist online shopping? You can find all kinds of organic clothing online—look for organic certifications and give them something with a smaller footprint, and go for something comfortable they'll actually wear. Surprise your loved ones with organic jute bags, T-shirts, sweatshirts or hoodies featuring a design that speaks to their hobbies or personality. Have a niece who loves all things Christmas? Then a cute holiday shirt like be right at home in her Christmas stocking.
Let's wrap it up – sustainable gift wrapping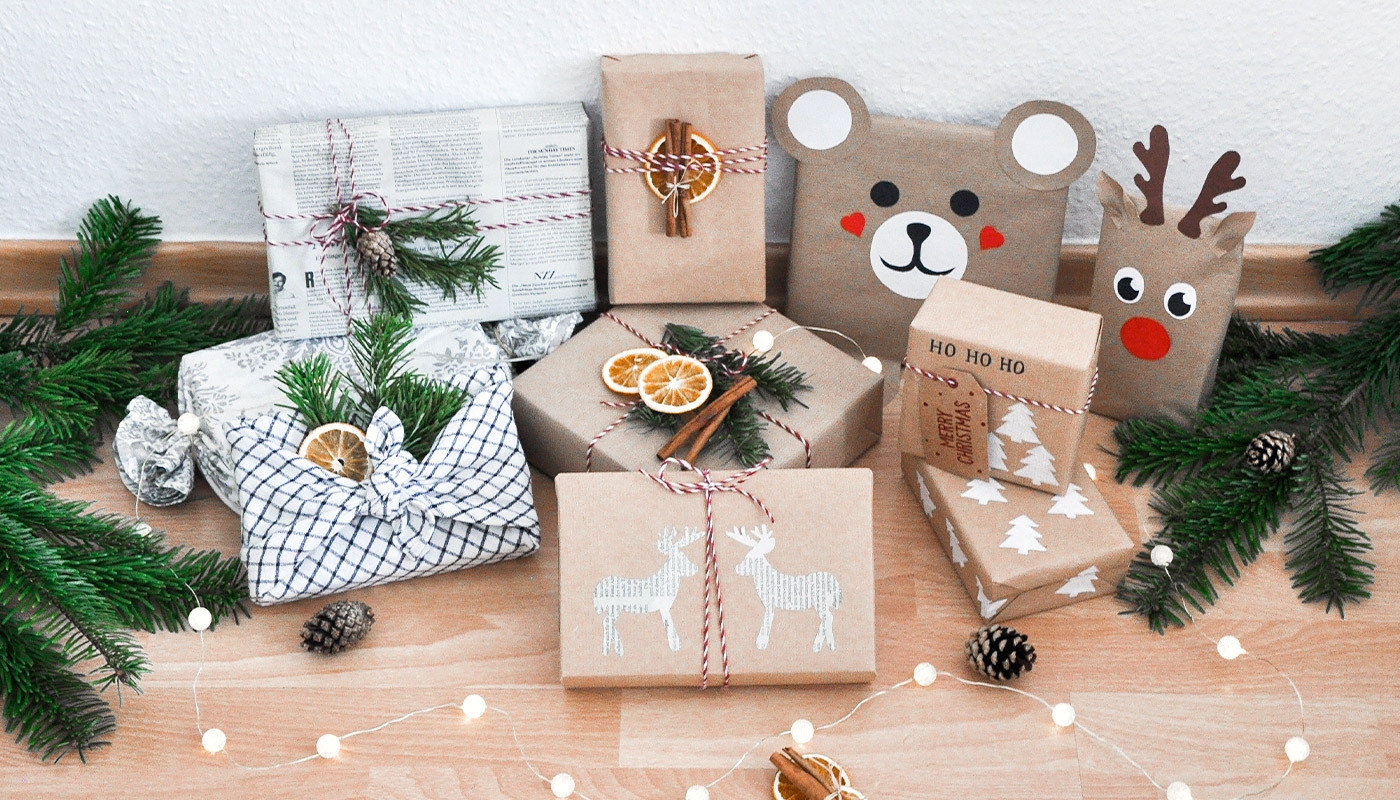 Every year at Christmas, vast amounts of non-recyclable plastic and paper packaging end up in the trash. While the brightly-wrapped presents look great under the tree, once they're torn open, their bows, ribbons and plastic decorations become disastrous for our environment. The Ghost of Christmas Yet to Come says: don't do it! Get creative and use eco-friendly gift wrapping this year to surprise your loved ones. Our Communications Manager Kristina looked into sustainable gift-wrapping ideas and rounded up the most beautiful, personalized and sustainable ideas for you here:
1. Packing paper
Classic brown packing paper is indispensable in the world of sustainable gift wrapping. Whether kept simple or decorated with dried flowers, fabric ribbons, string or sprigs of holly or pine – this versatile material can make a beautiful choice for gift wrap. And after the unwrapping? The decorative elements can be saved and reused next year. You can either save the paper and use if for sending packages by post or you can recycle or compost it with a clear conscience. Here are some creative ways to dress up packing paper so it's anything but drab:
Stamp or paint your brown paper with lovely Christmas motifs like snowflakes, Christmas trees, spotted patterns or All that's missing is a nice, eco-friendly string to hold your gift together. And the name of the recipient, if you can still find a free spot.
Go natural with foraged materials. Instead of the usual shiny plastic bow, use twigs, cinnamon sticks, rosemary, colorful leaves or rose hips this to decorate your gifts this Whatever sustainable decorations you find around the house, garden or on your walks – they'll look lovely without the waste.
Cut out festive shapes. Draw deer, snowflakes and Christmas trees on newsprint or construction paper, cut them out, and glue your little works of art onto your wrapping paper.
Make paper animals: Kids love this trick! Use a circle punch or scissors to cut shapes out of recycled paper to turn your gift into an animal face. Then, you can glue the finished pieces onto the wrapped gift. Add the eyes, mouth and other important details quickly afterwards.
2. Newsprint
You have more than enough newspapers in the house? They can make lovely gift wrap. Find a suitable theme or a funny headline and tie your gift with biodegradable string or a festive fabric ribbon. Again, don't skimp on natural or foraged This simple way to lovingly wrap gifts not only saves resources, but also money.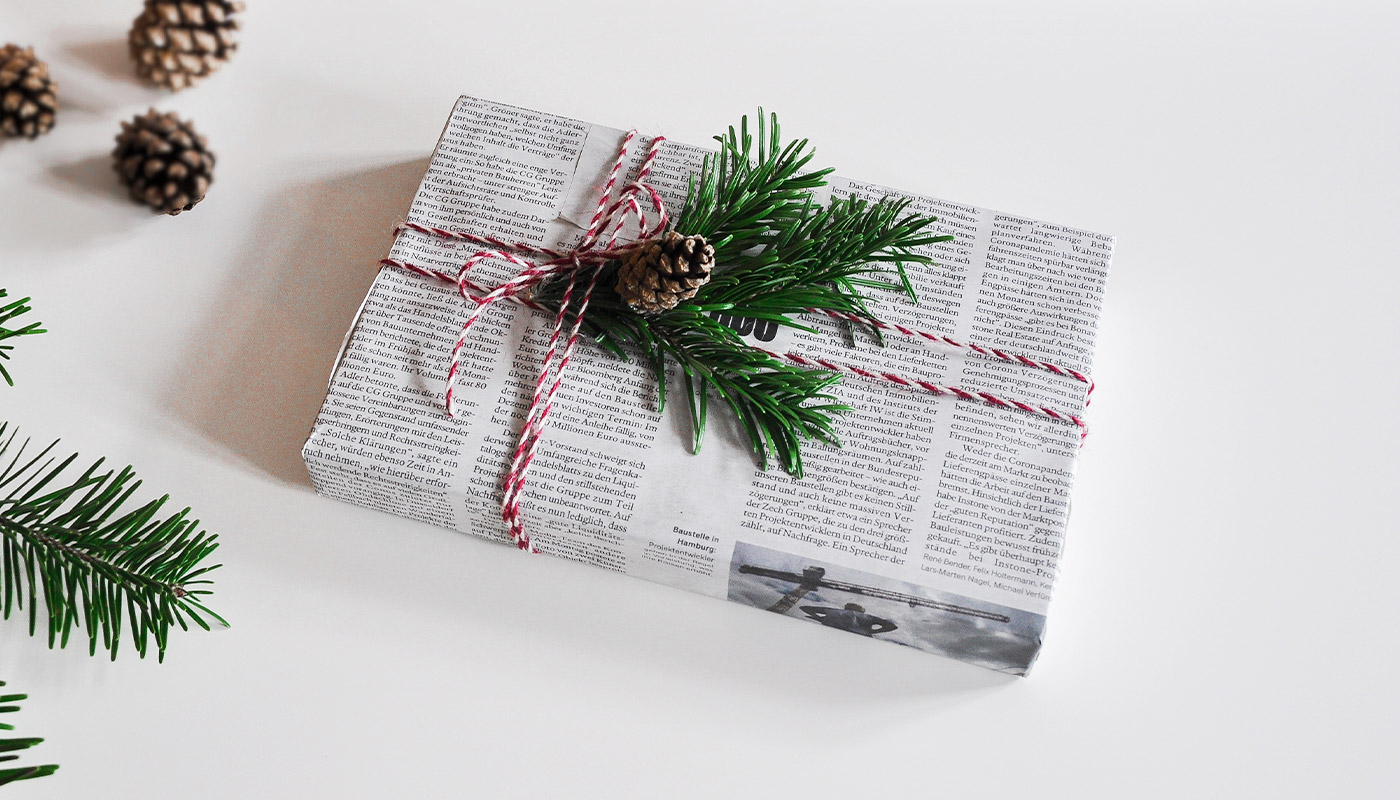 3. Upcycled fabric
Have old Christmas clothes from previous years? Or other beautiful fabrics that you no longer need? Cut them to size and wrap your gifts in them. Here, too, you can finish it off with sustainable ribbon and natural decorations. At the end of the festivities, fold the wrapping away and bring it out again next year.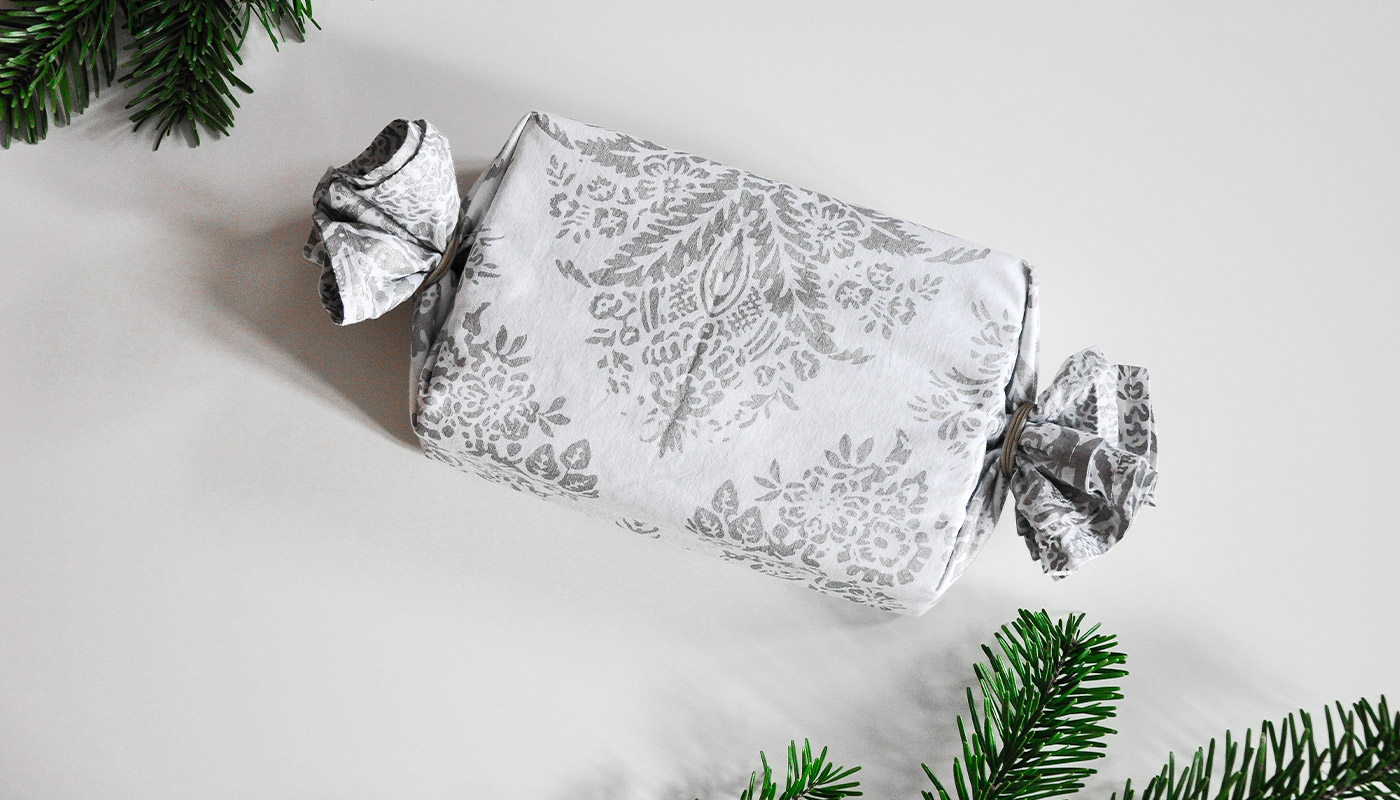 4. Big in Japan
Furoshiki Fabric gift wrap is an ancient art in Japan, dating back 1200 years. Furoshiki shows how beautiful reusable items can be. It's all about attention to detail in everyday items. Reach for beautiful fabrics like tea towels and scarves or pick out specially printed fabrics for the occasion in stores or online. You can reuse all of this after the party, or it can simply be part of the gift.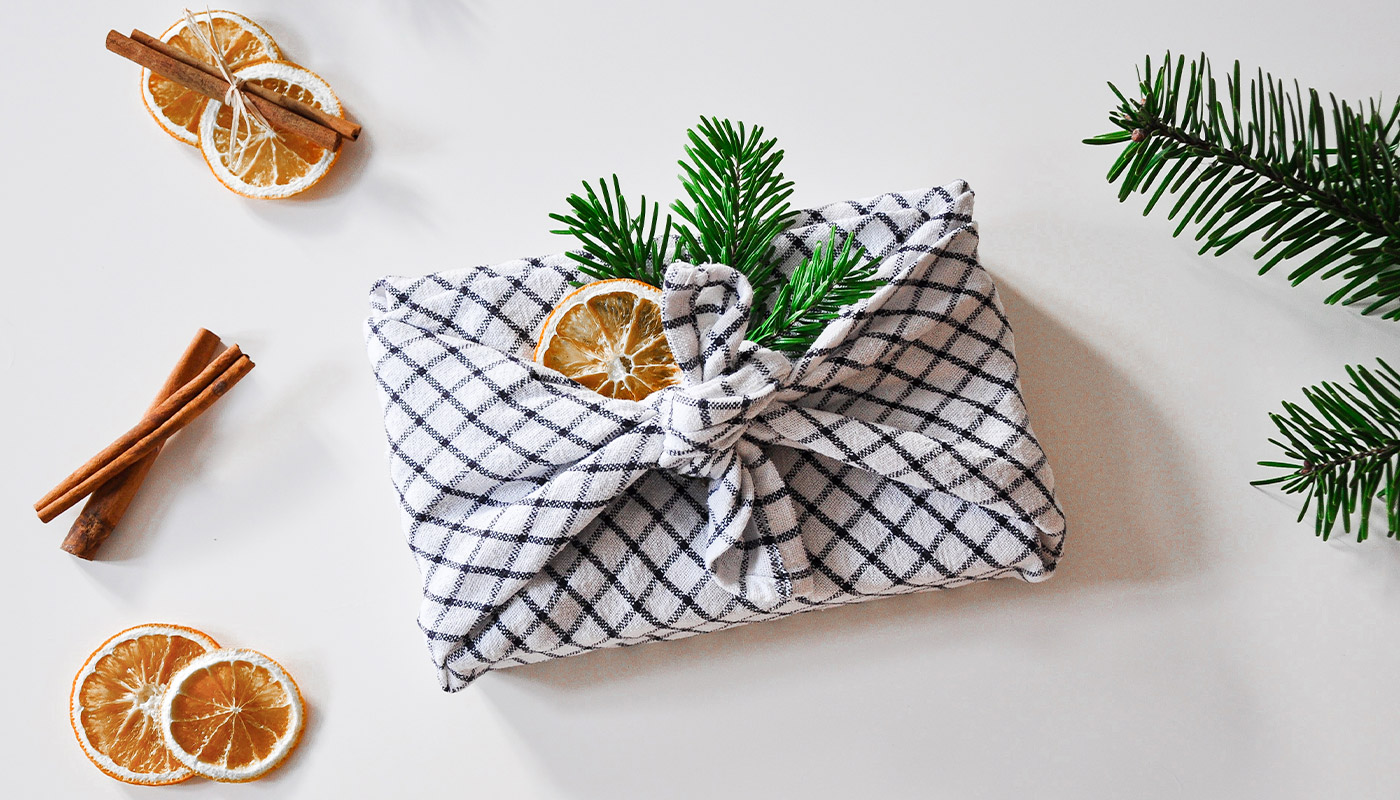 5. Stockings
These classics aren't just for the fireplace. Here's another traditional method of wrapping gifts: stockings! Create personalized Christmas stockings – sewing templates are available online – for all your family members (yes, even the dog) and fill them with gifts. Hang the finished works of art from your mantle as usual, or just place them under the Christmas tree. You can fill your loved ones' stockings with surprises for years to come.
We hope Kristina's snowstorm of ideas has given you some inspiration for sustainable gifting and gift-wrapping. Do you have any special tips to share about making this year's festivities a little greener? Tell us in the comments!